Product Description
Desktop type pocsag transmitter with built on charger for guest call applications. Offers friendly user interface with capacity to hold 15 pagers, with extension to hold up to 60 pagers. Large Easy to read blue backlit LED display. The paging system is pre-programmable to message guests and staff.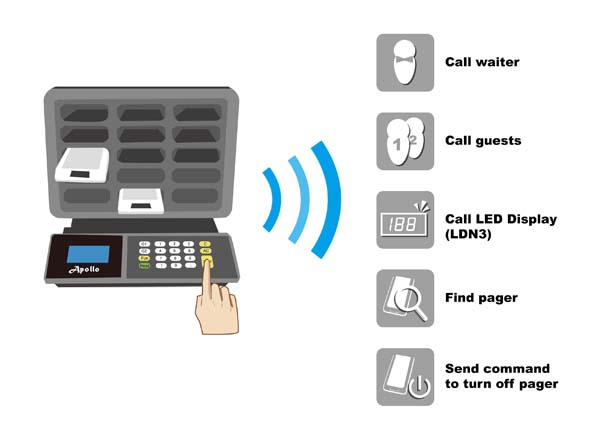 Transmitter Key Specifications/Special Features:
Desk type pocsag transmitter with charger
Guest call application
Friendly user interface
15 pagers for one set ; extension up to 60 pagers ; 3 extensions smart charger via cable
Large LED display, easy to read
Manual change alert type
Find pager, Range, test , pager off functions
2 Group call buttons ; pre-programmable message to call staff.
AL-A07 Pager Key Features:
Large area for advertisement (45x107mm)
Tone / Vibration / Flash Alert
For guest paging / compact size
Highly recommend to use with desktop transmitter
IP67 approval (Water Proof)
LCD Display (oo-899 digits) with blue backlight
PC Programmable
Syntehsized
Rich Sophistication:
Tone, vibrate, and flashed ( dual color LED ) alert
Over the air "off"
4 addresses ( with four functions per address)
Programmable alert type
Two color LED ( heartbeat, alert, out of range, low battery)
Nimh Rechargeable Battery