Apollo VP200 Pro Voice Pagers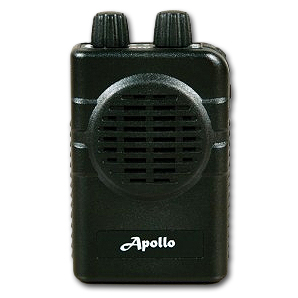 The Apollo VP-200 Pro-1 is the latest dual channel voice pager that is used widely throughout the world for emergency communications dispatch voice messaging. Many Fire Departments and Medical EMS departments rely on our voice pagers and here are the top 5 reasons why:
The VP200 Pro-1 is UL-certified for use in hazardous locations. Rated IP54 for dust and water protection. Making it ideal for fire pagers.
Two tone dual channel with eight minutes of stored voice. This voice pager also features twelve calls per channel, eight personal and four group calls.
Programmable on narrow band and wide band. Easy to switch over to narrow band from wide band or vice versa. Available in low band, VHF, and UHF.
Vp200 Pro-1 takes three AAA batteries  making it light weight, durable, and reliable.
Loud and clear alerts perfect for quick fire responses.
VP200 Pro-1 is a great alternative to the Motorola Minitor V fire pager and is cost efficient.
Contact us today for a free 30 day demo. We guarantee you will love VP200 Pro-1 as much as we do!